At
#iFLT15
I'll be launching my latest product: Rejoinders for authentic interaction. Get your novice students interacting with you authentically and spontaneously in the target language.
Bryce Hedstrom defines rejoinders as short sayings that help to keep a conversation going. 5 years ago I was inspired by
his Rejoinder posters
. Over the years, I've found I needed more.
These posters (which are printed on 100# Cover Glossy paper and look SHARP) take authentic interaction to the only place an educational cliche could go… the next level!
I'm introducing 4 sets of rejoinder posters. Each of the four sets includes four posters. Each poster has four easy to read expressions that will keep your kids communicating with you or their classmates in Spanish. That's 16 rejoinders per set, 64 in total!
What's more, they'll be communicating in ways that are emotionally and situationally appropriate using authentic sayings.
You can plan out and introduce these rejoinders one poster at a time, or cut them to introduce them one at a time.
I've divided them into four sets according to the time of year that I typically introduce them. Introduce 2 each week for  two months – this ensures novelty and expanded communicative ability throughout the school year.
I've tried hard to harness authenticity in these expressions. They're not textbooky. There are the TPRS® basics (
¡Es obvio! ¡Qué ridículo!
) and then there are those that real Spanish speakers actually say (
¿Qué mas da? Pues, no lo sé. Yo, ¿qué sé? Vete tú a saber.
)
I've used gender-neutral, texting shorthand in expressions like ¡Pobrecit@! and ¡Tranqui, tronc@!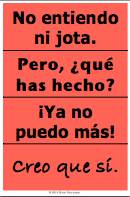 These are big enough to be seen from anywhere in the classroom but small enough that they don't take up all your wall real-estate!
Set 1 – Green:
Use these short sayings at the beginning of the year. They include your staple expressions: ¡Es obvio! ¡Qué ridículo! ¡Qué lástima! ¡Lo siento! and more!
Set 2 –  Yellow:
These are rejoinders I introduce between November and January. They include expressions that allow for less definitive replies – ones that invite more questions into your conversation: ¡No es justo! Depende… ¡Quizás! No vale la pena, and more!
Set 3 – Red:
I add these expressions in after the new year when students have caught on to how to engage in Spanish together and they're confident enough to add sarcasm and feigned attitude. They include expressions like: Pero, ¿qué has hecho? | Yo, ¿qué sé? | No lo sabía | ¡Olvídalo!
Set 4 – Blue:
These sayings sometimes are chosen because they capture the youth lingo of the day:
I saw what you did there – Yo vi lo que tú has hecho.
Dude! Chill out! – ¡Tranqui, tronc@!
Others are quite functional – ¡Apúrate! | ¡Ya te capto!  and more!
I believe color plays an important role in language learning. I've chosen 4 distinct colors for these posters, inspired by the colors of La Boca, the colorful barrio of Buenos Aires.
I'll be using them in the Learning Lab I'm teaching at #iFLT15. I'll also (eventually) blog about how I introduce them in different ways throughout the year. These are so powerful for helping to stimulate and maintain authentic communication with students. I can't tell you how many times I hear them being used at the right time and in the right tone throughout the whole school!
Pick some up at #iFLT15! I'm sure you won't regret it!
Pricing:
Each individual set will sell for $30 (plus shipping – $9). If you wish to purchase all four sets at once, the price will be $100 (plus shipping – $13) for all four.
Purchasing:
Soon you'll be able to buy some on
Bryce's website
and my own
(when I get the e-commerce thing going). In the meantime, just email me and we'll figure it out!
New Product Sneak Peak – Rejoinders for authentic interaction