Last summer, June 2014, after the students had finished and gone home, I had one work day in my classroom to finish grades, clean my room, etc. etc.  But when I turned the key that morning, I knew the first thing I had to do was get those desks out of my room. So, for the first hour of that day, grades incomplete, stacks of papers all around, I pushed the desks to the designated "Free to a good home" location.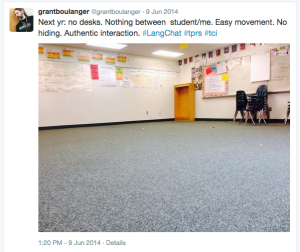 I had been mulling it over in my mind for a while. I had emailed back and forth with Anny Ewing, a TCI teacher in PA and admin of the TriState TCI Facebook group. She ultimately and relatively unintentionally reassured me that I wouldn't die if it completely failed. Dr. Louise Walker and I had discussed it later that summer at NTPRS Chicago. By the time Louise and I talked, I knew I was in it to win it. But I hadn't thought out how it would affect all aspects of class. I was scared, even as I pushed those desks into the hallway. I got lots of looks from my colleagues and not a few of the quintessential Minnesotan assertion "Well, that's interesting…".
I really didn't have much of a plan. I knew I'd be using the standard plastic chairs. I knew I would have to find a place for kids' belongings. I knew this shift would throw a wrench into how I'd managed spaces and bodies in my classroom for the previous 13 years. But I knew I wanted more genuine human to human interaction. I knew I wanted fewer barriers to authentic conversation.
So there I was, pushing. Pushing desks. Pushing the boundaries of the traditional classroom. Pushing my students to understand the experience of school in a new way. Pushing my own limits of comfort.
And I knew if I didn't get completely rid of the desks, they would creep back in and find a way to keep me from really growing. So out they went.
The first year has been challenging and I wrote a little bit here about how I dealt with some chair and body management issues.
But I'm ready to be more thoughtful and intentional about where and how my students sit (when they're sitting). I'm ready to think more about what they sit on and why. I'm ready to embrace the #desklessclassroom in a way that says "this isn't an accident or experiment, it's how we do things here."
My next area to explore is special seating.
What I started with:
The chairs I started with are your staple school chair. Hard plastic. Some were blue and green. But there were a few red ones sprinkled in. I had the idea early on that the red ones should be special chairs. In the echelon formation (read about that here) I put one red chair per group of 6. That person, I thought, would be the paper collector for her group. I tried this right away at the beginning of the year. But I was stupid. There were two main issues that impeded success:
1) I was deeply engaged in relearning how to manage a classroom without solid desks. I simply wasn't able to sustain the special chair idea. I was too focused on other management issues.
2) If you're going to make a special chair and give a special job to the person/people that sit(s) on that/those chair(s), make it a job a kid wants to do!
So with my energies focused elsewhere, I let it go. But throughout the year, during times of lower stress and preoccupation, I played with this idea. I brought in my English teacher's green suede wingback chair, temporarily, for when I read pictures books to my students. I brought it in again on what I call "Oprah Day" when I interview students about their families, favorite activities, likes/disklies.
I borrowed another colleague's zero gravity chair when I taught Anne Matava's script Lazy. The student-actor kicked back and, you guessed it, was lazy.
All of these experiences created a novel experience in the classroom and served to heighten my students attention and attentiveness.
Simultaneously, I've been refining the way in which I assign student jobs. I'll post more on that later, but suffice it to say, I've been more… what's the word… intentional about giving students jobs that empower them and make my daily job easier.
So, that brings me (finally) to the topic of the day – making seating matter.
My latest acquisition are two sets of five nesting boxes a friend of mine made. These two sets were left over from the order. Here they are:
As you can see, these boxes are about 20″ high, each have sanded handles for easy manipulation and range in size from small to large. I see a lot of potential with these.
Here are a couple of my immediate thoughts regarding how to use them in class:
Make the biggest one a stage.
Let the kid who incessantly drums play it like a cajón as we chant a phrase.
Assign the biggest box to the smallest kid and the smallest box to the biggest kid.
Line them up and have students guess under which one is the Oatmeal Cream Pie.
Paint rejoinders on them and assign the student who sits there with the job of shouting out their particular rejoinder at the right time and with the right tone.
Story narrator stands atop one.
My plan this summer is to stain the tops and varnish the sides. I may be dissuaded if I become convinced that there should be words on the sides. It's fully possible that these boxes do want words on their sides.
But, I'm currently thinking bright primaries, a la La Boca. We probably all need more color in our rooms.
Once their distinguishable by color, I can further assign them to specific people. Perhaps my quiz writer sits on the red one, my secretaria sits on the blue one, the door knocker sits on the loudest one, etc.
But I'm not going to make the same mistake I made last year. I'm not going to start the year with these boxes in my classroom being used as seats. If I do that, I can guarantee that by October they'll be old news. Nope. It has to evolve. It has to surge organically at the right time, with the right kids, in the right context.
In fact, as I write this, I realize that turned on their sides they could stack and form a unique shelving unit. Imagine, six weeks into class. Kids are beginning to make sense of (and thus be bored by) some of your routines and rituals. You identify the need for a new student job (read up on student jobs here until I can post about how I use them)- the King/Queen of Gestures. You hold an impromptu competition to see which of your students has mastered all the gesture words taught to date and break out the plastic crown. All students applaud and you begin to direct this student to their normal, boring, hard plastic chair. "Oh! Wait! You are deserving of a special chair!" You then grab one of these beautiful boxes currently housing your tprstorytelling.com novels or student binders, carefully remove contents, and set the box down for the King/Queen to sit on, displaying simultaneously the colorful top that had, heretofore, been unseen, pushed up against the wall.
Now that is the way a special seating arrangement should happen. All of that positive emotion of winning the competition, becoming named King/Queen of Gestures, being recognized for the brilliant person s/he is – it all gets reinforced and almost codified by the fact that I've torn apart my classroom shelving to create a new, beautiful, and proprietary seat for this special person.
Yes, yes. That's how I want it to happen. But I also have to remember to be ready to defend that space by not allowing anyone else to sit there. And if they do, I'll smile and say, "I'm sorry, but that space is designated for the King/Queen of Gestures. Perhaps you could do a special job for me and earn a special seat too. What will it be?"
And, finally, what I love most about these, and why the custodians argue over who gets to vacuum my room in the evenings, is that they all stack up so neatly.
So, what am I missing? How would you use these? How would you paint them?
Planning #Desklessclassroom Year 2 – Making Seating Matter